During the World Cup Qualification series of 2001, I had an idea to prise Peter Wilson out in to the public eye for one last time.
The plan was all set for that last WCQ against Uruguay in Sydney in November 2005. My idea involved having "The Captain" make one last public appearance, bigger than ever, but also respecting his privacy and being sensitive to his feelings. I imagined, either just before the match or during the halftime break we would have a spectacular intro followed by an even more spectacular entry into the stadium.
Using the ground announcer and the big screen, the crowd would be silenced, then the unmistakeable roar of a Harley Davidson engine becoming louder and louder. The crowd uncertain as to what was about to happen.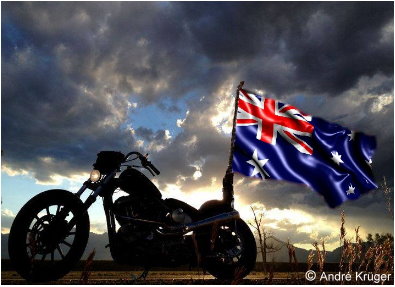 After a short while a Harley enters the playing arena. On it a man with long hair, a big moustache, sunglasses and at the end of the motorbike - a big huge Australian flag …………..
You can hear the murmuring in the crowd …as he drives slowly around the edge of the playing area. . Then on the screen …"Ladies and gentleman, please welcome our captain Socceroo, Mr. Peter Wilson".

The crowd go wild, especially the ones old enough to know who he is. The younger ones quickly asking "who is this guy?"
So he very completes a couple of laps of the arena, as cool as ever and in control. And then without fanfare he drives out of the stadium through the tunnel, straight on the road back to the South Coast.
NO interviews, no media conference, - nothing. And the myth around him is as big as it ever was.
You have no idea how close to reality this nearly was…
When the Socceroos arrived for the World Cup finals in 1974 in Germany, I was fascinated with Peter Wilson. He played a hard, uncompromising brand of football and he was also the captain.
I met him for the first time in 1978 in Dural, Englefield Stadium when the Wests played Brisbane City. We chatted a little on that day, but after that we exchanged many letters and even later than that, many telephone calls.

Whenever I am down under, we always manage to get together for a chat. We have built up a trusting friendship over the years.
So my idol as a kid, becomes my good friend. This I treasure as I know that not many people get the opportunity to get close to him.